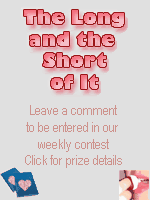 Why Sorcerer Cowboys?
I suspect I was the only person who walked out of the George Straight concert, saw the marquee advertising a Nine Inch Nails concert the following month, and went "Look mom! Nine Inch Nails!!!!!!" I think a few guys in cowboy hats even turned to stare. And yet, I'm the same person that while watching television recently, saw an ad for professional bull riding and lamented the fact that I was working and couldn't attend. My boyfriend just rolled his eyes.
I am a mix of two worlds and so are my sorcerer cowboys. Coming up with the StarMyst series was fun. I wanted to write a cowboy story, but I didn't want to write just any cowboy story. I love writing those too, but this time, I wanted something different. What things aren't usually mixed? Back when the series started (in 2007) it was cowboy paranormals. So I made my cowboys paranormal.
They had magic. Once I had made that decision things flowed from there. With each book I've built on the world, made it richer, more vibrant with societies and feuds. It's not just about people who breed horses and practice magic; it's a whole society built within ours, too. And with each successive book, the magical element has gotten stronger.
It's a hard pair of genres to mix. I also come from a traditional science fiction and fantasy background. When I showed readers the original publisher's cover for the first book in the series, they were like "eww, cowboys!" I had to explain the magical part. And then they were like, "cowboys?"
I've always been different, wrote to my own muse, and fostered an eclectic mix of interests and hobbies. When I'm at the barn, the radio in the back plays rock. In the front barn, the radio plays country. I think it depends on who is cleaning stalls, but my life is kind of like that. So to me, giving my traditional cowboys magic seemed to come naturally.
I hope you enjoy the mix of magic and the rodeo world that comes in my latest book,
StarMyst: Rodeo
.
Bio
Mary commutes between her dream home near the Mark Twain national forest in Missouri and her current residence in Iowa. She lives with a menagerie of animals including an opinionated horse and a cat who was a dog in past life. When not writing spicy tales of erotic romance, she enjoys writing science fiction and fantasy, spending time with her horse, and enjoying the outdoors. Lucky for her, her partner (hero) shares these same passions, and usually both of them can be found in their respective dens writing.
Website -
http://marywinter.com
Reader's loop -
http://groups.yahoo.com/group/marywinterchat
Newsletter -
http://groups.yahoo.com/group/marywinternews